How does the Knock Home Swap™ program work?
As a Knock Certified Agent, I am on a mission to empower people to move freely. The Knock Home Swap™ makes it easy for consumers to swap their current house for their dream home by buying first and selling later, skipping the hassles of living through repairs and showings, paying only one mortgage at a time, and having home prep covered upfront so their old house sells on the market for the highest possible price.
The Home Swap is the perfect solution for clients who are buying and selling at the same time. The Knock equity advance - similar to a bridge loan - gives you the power to unlock the equity in your existing home, and allows Knock to qualify you for a conventional loan for your dream home.
In this program, you will be able to make non-contingent offers and move quickly on the home of interest.
Knock Lending will qualify you and provide a loan that allows you to buy now. A 0% Knock equity advance loan, which is similar to a bridge loan, helps to cover a portion of the down payment on your new home, up to $25,000 in repairs on your existing property to maximize its value, and up to 6 months of mortgage payments on your old house while it's listed.

The cost to you, the seller, is 1.25% of the purchase price of the new home, which can be rolled into the Home Swap loan, or the new home loan (plus loan interest, typical closing costs, and lender fees), but Knock does not charge the typical 1% origination fee - on any of Knock's loans.
Who is the Ideal Home Swap Customer?
Situation:
Wants to buy, but needs to sell to qualify (needs a sales contingency, traditionally)
Buying in one of Knock Lending's open markets
Currently operating in AZ, GA, CO, TX, FL, NC, SC, CA, TN
Equity/credit:
Has at least 30% equity (or more) in their home
Factor all liens (primary mortgage, any second mortgages, leased solar, HELOC, etc into calculations). If you don't want to do this, that is fine - Knock Lending will double check.
Credit score is 620 FICO
Loan Type:
Can qualify for a conventional loan (FHA/VA won't work right now)
Conforming loans only (no jumbo)
If you aren't sure - connect with the Knock team
Property Condition:
Their house is well maintained - no major work needed
May need up to $25k in cosmetic work (i.e. paint, carpet) for listing
If over $25k, overage paid directly by customer
Home doesn't have any major visual detractors nearby (i.e. busy roads/highways, large power lines, cemeteries, commercial properties, unusable yard, etc)
Listing Value:
Value is at or below Knock's maximum list price of $850,000
There are similar comps (at least 2-3) that clearly prove this value in MLS
You're confident it will sell well - market data proves this (days on market)
New Home Criteria:
Buying a residential property for use by a single family (houses, townhouses, condos - but no vacant land, mobile homes, modular homes, etc) Duplexs/Triplexes accepted if one unit will be primary residence.
Conforming loan (no jumbo)
Can I buy New Construction with the Home Swap Program?
With the Knock Home Swap program, my clients still have the ability to purchase new construction properties. In fact, builders LOVE working with Knock because my clients are guaranteed to close due to no sales contingencies. New construction purchases follow the same process as a resale purchase. See the process below:
Clients will get pre-approved with Knock Lending and work with the Knock Certified Agent on qualifying their current property.
Clients will find their dream new construction home and are responsible for covering the deposit.
Clients will close on and move into their new home once build is complete. (Knock will still provide the down payment assistance.)
Any recommended repairs on the old property will be completed.
I, the Knock Certified Agent, will list and sell client's old property.
If a client's new construction home takes longer than 3 months to be completed, no worries! Knock's pre-approvals expire after 90 days, so they will simply need to go back through the underwriting process and update their pre-approval.
What if I'm moving out of state?
To facilitate a state-to-state Knock Home Swap, you must be buying in a state where Knock is a licensed lender. I will find a Knock Certified Agent for you to work with in your buying market after we have completed the initial property eligibility verification here in Colorado, and Knock Lending has confirmed your financial qualification for the program.
Knock's operational states include (and it is expanding):
Arizona
Colorado
Georgia
Florida
North Carolina
South Carolina
Texas
California
Tennessee
Minnessota
Are there any Home Swap eligibility parameters?
The Knock Home Swap program has specific parameters to qualify customers in regards to the customer's listing and new home purchase. These parameters are put in place for customer protection.
Listing Requirements:
Homes should be in good condition
Estimated sales price is under $850,000
No clouds on title
Solid recent comps
No disqualifiers or red flags (listed below)
Red Flags/Disqualifiers:
Fixer-upper homes
Homes with system/structural issues
Foundation issues
Water damage
Damaged roofs
Properties that backup to highways/railroads/busy roads
55+ communities
New Home Purchase Restrictions:
Multi-family dwellings (duplexes & triplexes: have to have one unit as primary residence)
Foreclosures
Fixer-uppers (as-is properties have to qualify for conventional loan and appraise)
Mobile/modular/manufactured, land purchases
Non-conforming/jumbo loans
What are the costs to sellers utilizing the Knock Home Swap?
With the Knock Home Swap, sellers can purchase their new home before they sell their old house. When they close on their new home, they'll pay a 1.25% convenience fee based on the purchase price of the home which can be paid in several ways, in addition to regular closing costs. Below are the options, ordered from what we see most frequently, to what we see least frequently:
The convenience fee can be rolled into the equity advance (bridge loan). This means that if a client is eligible, Knock can cover the fee as part of the equity advance loan they give the client. When their old house sells, this loan is paid off and closed. This a great option for clients who qualify and want to minimize out of pocket closing costs for their new home purchase.
It can be paid as cash out of pocket by the client at closing.
It can be rolled into the rate (points). If the client chooses to lock a rate that is higher than the par rate, they may get a lender credit. That lender credit can be used to cover closing costs, and the convenience fee is part of those closing costs.
For all loan related costs, Knock Lending will provide loan estimates to the client at the beginning of the process, as required by the CFPB, so they'll be fully informed prior to making any offers.
What other costs/fees, outside of the convenience fee, will I have to pay to buy my new house?
Knock charges a $1,450 loan admin fee that covers processing and underwriting at closing. In addition, you'll have regular closing costs (including but not limited to: taxes, insurance, legal/title fees, HOA fees, and insurance).
How is the Knock Home Swap different from a Bridge Loan?
With the Home Swap, you get access to your equity before you sell via the Knock equity advance loan, which is similar to - but better than - a bridge loan. The big difference with the equity advance is that you don't have to qualify for or pay two mortgages at once. Additionally, Knock's loan is interest free for 6 months, theya provide a back-up offer so you have certainty in your sale, they also offer their Home Prep Concierge service, and they'll set you up with a competitive rate on your new home mortgage!

Existing traditional bridge loan programs give you a bit of cash to cover your purchase, but at a higher rate and cost. They are tough to qualify for, you typically still have to be able to afford two mortgages at once, you usually need to put 20% down plus 20% or more in equity, and they are expensive.
The Knock Home Swap is a totally unique program. They are comparing it to a bridge because it has some similarities - but it is not a bridge loan program. It is a complete buying and selling solution that provides:
Up to 20% of the purchase price to cover down payment on the new house.
Up to 6 months coverage of mortgage payments on the old house so you only pay 1 mortgage at a time.
Up to $25k to repair/update the your existing home (home prep funds) so your home sells for the most money possible.
A backup offer on the listing (existing home) so you have a fall back option if the listing doesn't sell in 6 months.
All of these benefits come at 0% interest to you and are paid out of your equity when your existing house sells.
What is the Knock backup purchase offer?
In order to clear the debt on your old home, you will agree to a Knock backup purchase offer. This offer is not meant to be executed, as the goal is for you to sell your house on the open market. If the home has not sold in 6 months, you will need to accept the backup offer or begin paying for both mortgages.
When are repairs completed on my listing (existing home)?
If you are utilizing the funds Knock provides through the Knock equity advance to complete home preparations on your old/existing home, they will need to be completed within two weeks after a you have closed on your new home. Per the backup purchase offer, the home will be listed within 45 days of the moving into the new home. You are in control of your home preparations, and have Knock's Home Prep Experts to support you along the way. They will sign off on completed work to confirm the work has been done to your satisfaction. You will have access to Knock's network of contractors, but Knock can work with any out of network contractor of your choosing, as long as they are licensed/insured and can accept payment after work has been completed.
Do I have to make two mortgage payments?
With the Knock Home Swap, you only pay one mortgage at a time. You will pay the mortgage on your new home, immediately building equity, while the Knock equity advance covers the monthly mortgage payments on the old house, as agreed to in your contracts.
What happens if my house doesn't sell in 6 months?
Before you buy your new house, Knock will issue a purchase guarantee on your old/existing house that goes into effect after 6 months, so you can rest easy knowing that you're covered—no matter what.
What are Knock Lending's rates?
Knock Lending's rates for the primary mortgage are competitive with other lenders, and vary by market and customer. They regularly audit their rates to ensure they remain competitive.
Who pays for the appraisal and inspection?
Just like a traditional home purchase, the you (the buyer) pay for the appraisal and inspection on your new home as you move through the inspection and appraisal periods defined in the purchase contract.
Will my home qualify for the Knock Home Swap?
Knock is starting with homes that match the following criteria:
Located within our service area (we are rolling out more markets all the time!)
Single-family residential homes, including condos and town-houses that can receive traditional financing
No cloud on title held by the seller
Knock valuation range of $150k or greater
Owner-occupied or vacant (sorry, no leases). Must be your primary residence.
And do NOT have the following:
Distressed sale or bank-owned
Un-permitted additions
Significant foundation issues or prior water damage
No mobile, modular, or manufactured homes qualify
How do I know the price is fair?
For your new home, the price you pay is 100% up to you (dependent upon negotiations with the seller, of course), and the amount you're qualified for from Knock Lending. As a Knock Certified Agent, I will help advise in the offer and negotiations process.
For your old house, we will sell it on the market for full market value.
How does the mortgage pre-approval process work?
At Knock Lending, they begin the pre-approval process for their clients ASAP. Most of the time, this is prior to finding your new home. They will review the financial information you share with them to let you know exactly how much house you can afford. Most lenders wait to do this until the new house is under contract; Knock does it in advance - as often as possible. - to give you more buying power so there aren't any special conditions attached to your offer. Obviously, this is dependent upon your supplying them with all necessary documents. The sooner you give them all docs and details necessary, the sooner they can get it done for you!
What do "pre-qualified," "pre-approved," and "fully underwritten" mean?
The mortgage industry often misuses or confuses the terms pre-qualified and pre-approved.
Pre-qualified means that just your credit—but not your supporting information—has been reviewed to verify your purchasing power.
A pre-approval requires a more thorough vetting, in which a lender has verified your debts, assets, income, and supporting documents, such as pay stubs and tax returns.
Not only does Knock pre-approve you as part of their normal process, they also send their file to an underwriter so that you're fully underwritten for your mortgage in advance of your new home search, when possible.
When making repairs or upgrades, does the money come out of my old home's price? Are the expenses up to Knock, or do I have a say in it?
As I go through your old/existing home to do the Home Visit, I'll make recommendations for repairs that will net you the highest profit. Ultimately, the work agreed to and completed is solely up to you. The Knock equity advance will cover up to $25,000 to prep your home for sale, and you will pay Knock back when the house sells.
How does closing (escrow) work?
Just like any other real estate closing, you will receive the required closing disclosures at least three days prior to closing. From there, the title company will schedule a convenient time for you to sign the closing documents.
Is there an acreage limit on the new home purchase?
Ideally, clients will purchase a home on no more than 10 acres. Anything above will be evaluated on a case-by-case basis.
Are leasebacks an option with the Home Swap?
Yes - Knock can do leasebacks for up to 14 days on your new home.
Can I use VA or FHA loans?
At this time, Home Swap customers can only use conventional loans, jumbo loans, VA loans, and refinances–all with no origination fees and competitive rates.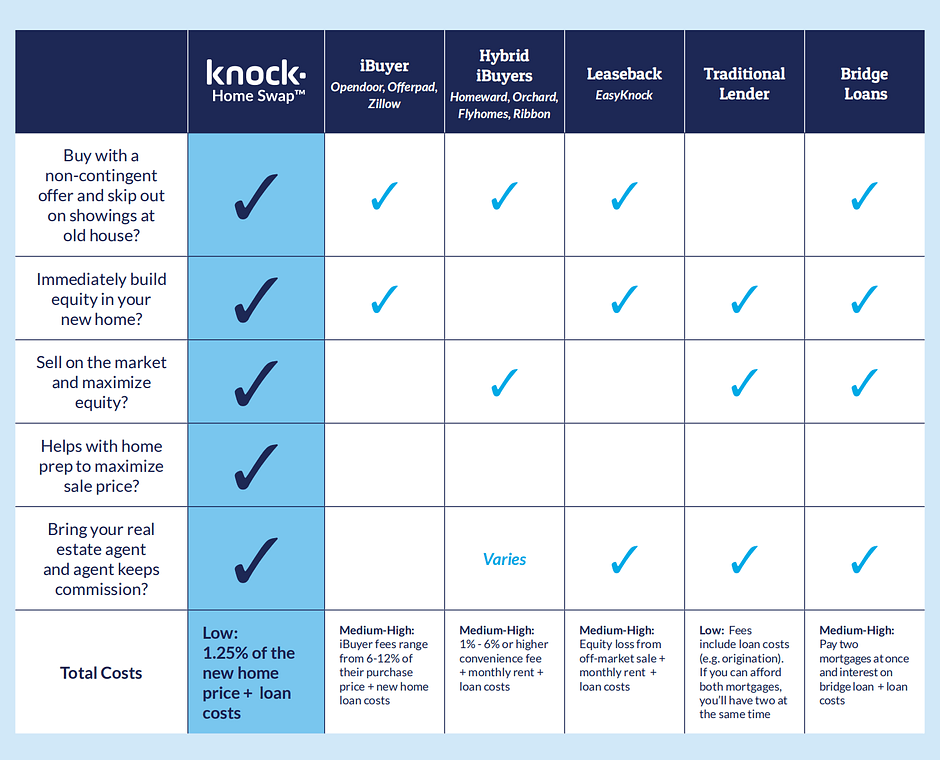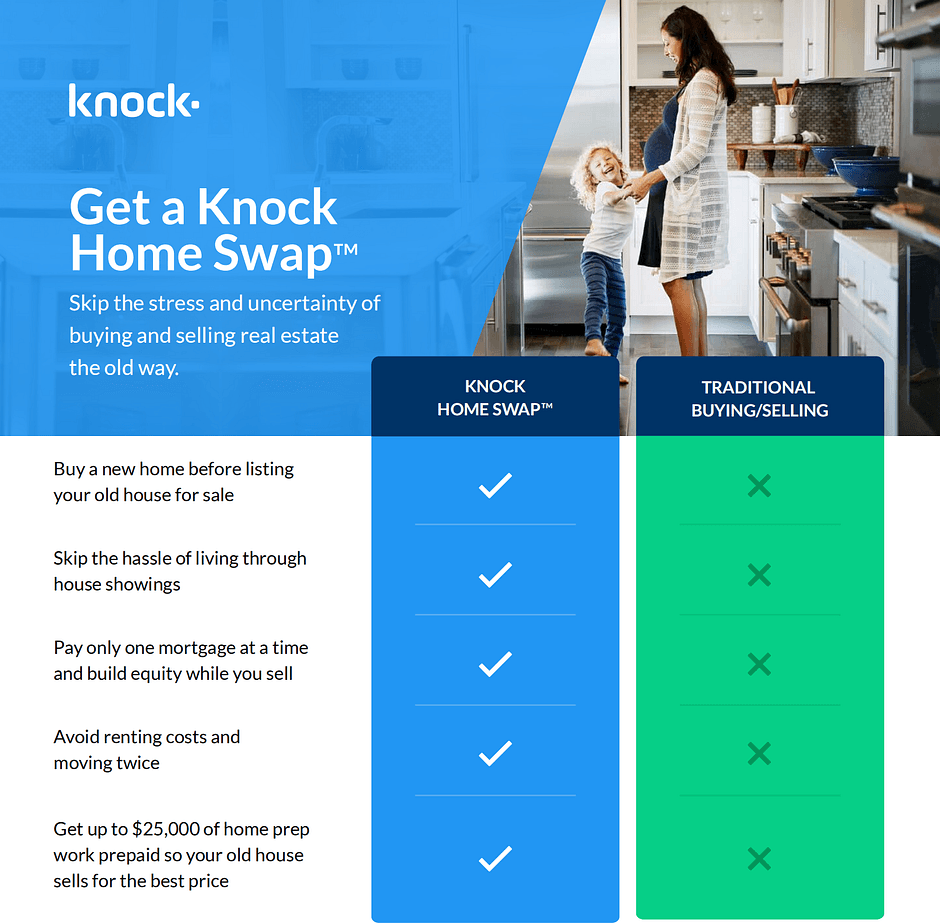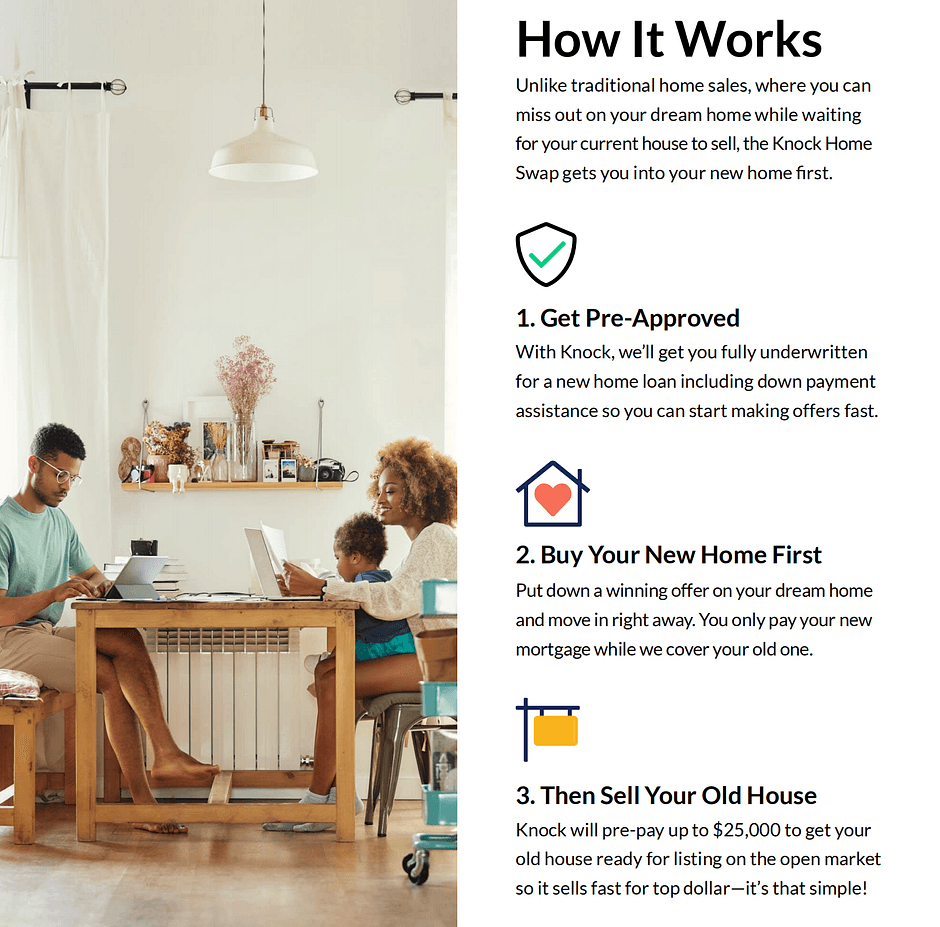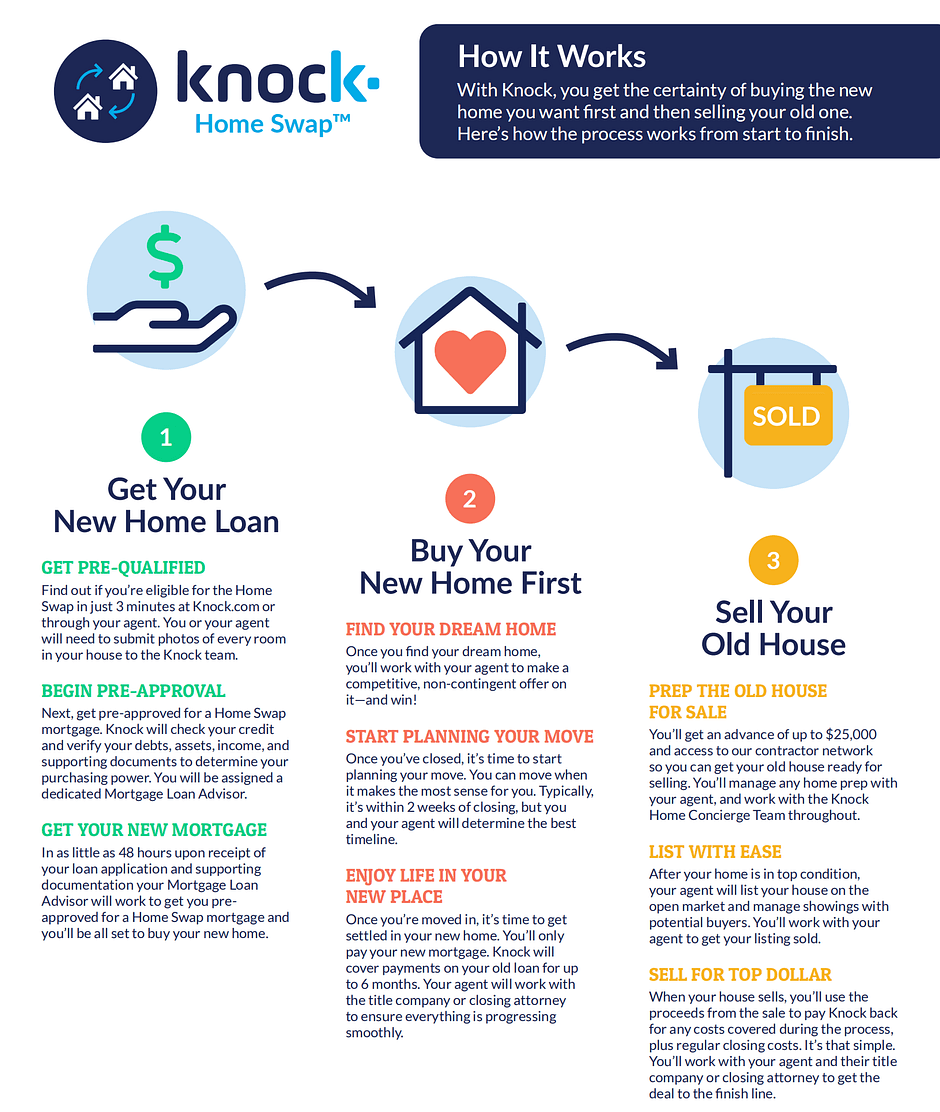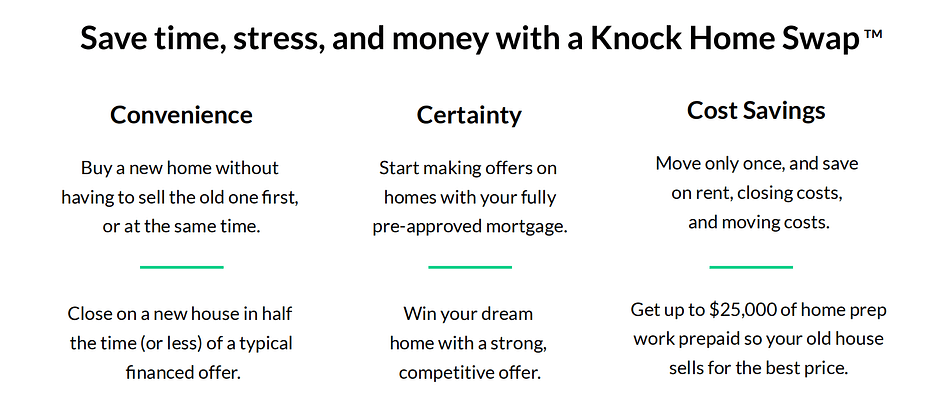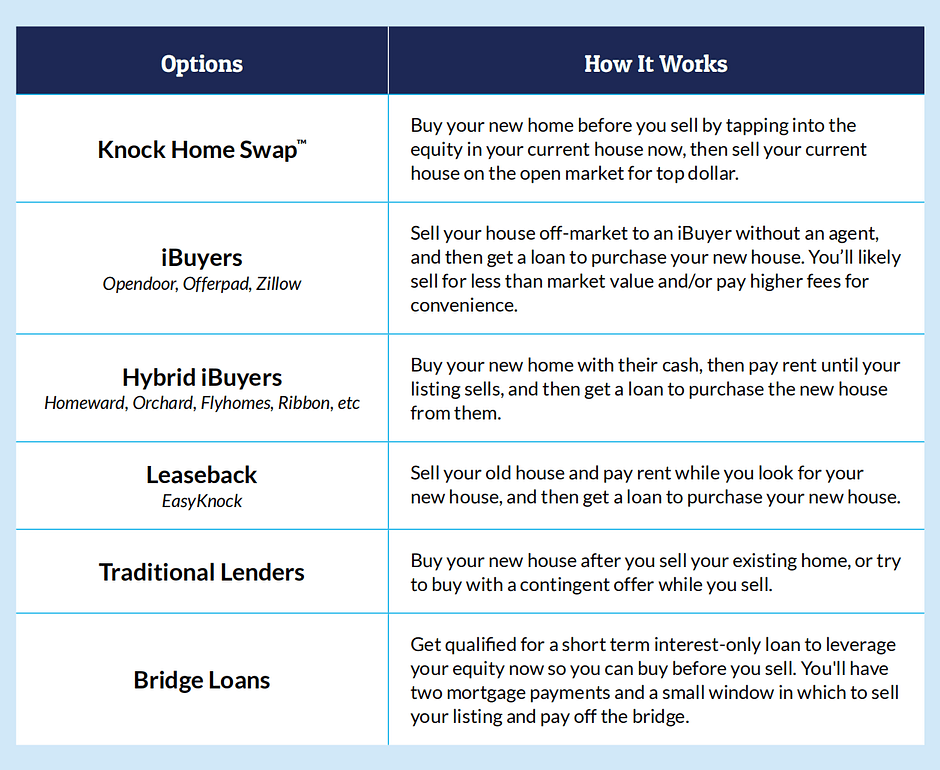 Need To Buy a New Home Before
You Sell Your Existing One?
As a Knock Certified Agent, I have exclusive access to a program that empowers you to buy a new home before you even list your current house for sale - providing funds for up to a 20% downpayment on your new home, up to six months worth of mortgage payments on your old home so you're only paying your new mortgage, and up to $25,000 to get your old home market ready if needed, so you get top dollar when you sell. If you're interested in the convenience of being able to present a non-contingent offer before selling your old home, certainty that you won't be paying 2 mortgages, and cost savings by not having to move twice - let's explore this option for your move..
Frequently Asked Questions